Study Abroad Program for students
Clare Hall, University of Cambridge Summer Visiting Student Program
2017 Academic Year
Shunya Yamada: Doctoral Student, Department of Advanced Interdisciplinary Studies, Graduate School of Engineering, The University of Tokyo
Overview
The purposes of this course were visiting of stammering-related organizations to investigate the situation on stammering in the UK and discussions with researchers around Clare Hall. The author is currently involved in Tojisha-Kenkyhu studies on Stammering. Tojisha-Kenkyu is an activity to find paradigms about disabilities based on experiences of people with disabilities. In this course, I aimed to discuss with people who engage in stammering in the UK and compare their experiences with situation of activities about stammering in Japan to find out the differences and similarities in the paradigms on stammering between UK and Japan. The author planned to visit several groups on stammering such as BSA(British Stammering Association) and to stay at Clare Hall for one month.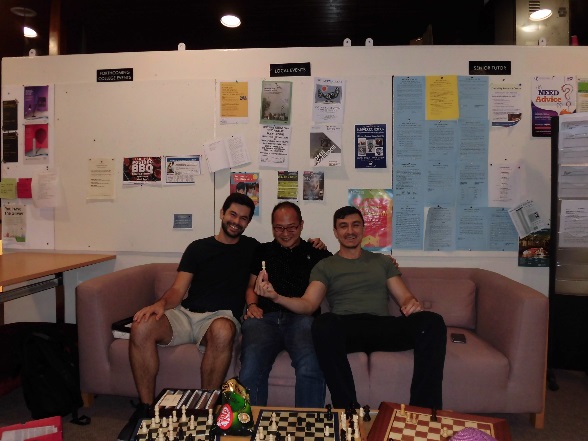 Fig.1: At Clare Hall. I discussed researchers while playing chess.

Clare Hall
In this course, I stayed as a visiting student at Clair Hall, one of Cambridge University's colleges . At Clare Hall, I met and discussed many people, such as, Prof. David Cope, Dr. Naoya Iwata, who specializes in philosophy, Ivo Timoteo who specializes in information engineering, Mr. Ban and Mr. Nishiyama, Dr. Hamakubo, who were staying at Clare Hall from RCAST at the same time. Especially, the author deepened friendship with researchers there by discussing while playing chess.
Self-help group activity at Cambridge
There are about 30 self-help groups for stammerers in the UK. 'Cambridge Stammering' is one of the most active one, and this year it marks the 10th anniversary of establishment. The activity of Cambridge Stammering was just posted on the local newspaper, 'Cambridge News' in this May. I met with Robert, who is the representative of this group, many times during my stay at Clare Hall and exchanged opinions on stammering. He also introduced the town of Cambridge, and invited me to a home party.
In an opinion exchange about stammering, he taught me about breathing methods about stammering, and they were impressive to me. In England's self-help groups of stammering, two types of breathing methods, which are called 'McGuire' and 'Starfish' are popular now to deal with stammering, and Robert also recommended me these methods. Although they are not a method to cure stuttering, but they are becoming popular among self-help groups of stammerers as ways to control the stress and the loss of self-confidence due to stammering.
When I showed some presentations to introduce the history of stammering in Japan, he got very interested in the history of stammering correction centers such as 'Rakuseki Company,' opened in 1903, and the sentences of 'Stammering Declaration' containing the philosophy of 'deny the effort to cure stammering' submitted by a Japanese self-help group 'Genyukai' in 1976. Especially, he gave a positive evaluation about 'Stammering Declaration' to face the problems of stammering. Also, he was surprised that stammering is currently classified as one of developmental disorders in Japanese law.
In Japan, the breathing methods are often regarded as "efforts to cure stammering", so I have not met with a person who make a positive evaluation on the content of the "stammering Declaration" while recommending breathing methods. Robet's way of thinking was surprising to me.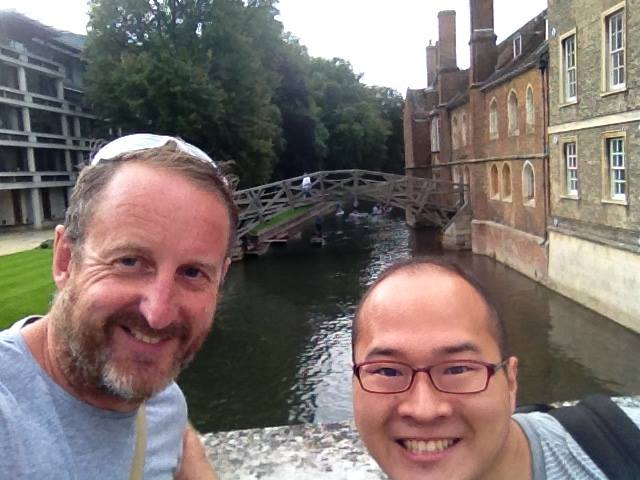 Fig.2: Robert Coe(left) and I(right). He introduce me town of Cambridge.

Self-help group activity at Doncaster
Doncaster is a town which locates about 2 hours by trains and bus from Cambridge, In Doncaster, there is also one of the most active self-help group, DSA(Doncaster Stammering Association) for stammerers in the UK, and I visited the group. The day when I joined the group was special event day called 'STamwalk' and the activity was reported in the local newspaper 'Doncaster Free Press' about a month later.
Stamwalk was a charity project by Tim, who is a chief of BSA(British stammering Association', and he walked through the UK while promoting awareness of stammering.
On this day, DSA members welcomed Tim who walked from Pontefract to Doncaster, and held a party.
I arrived a little early in this day, and helped to prepare for the party with the members of DSA, and joined Stamwalk handing the balloon written "Stammering" to the children who met on the way to meet Tim.
Bob, who is a representative of DSA was a very nice person and he welcomed me very friendly. During the preparation of the party, he introduced me very unique song made by him telling "let me introduce it to Japan" to me. The song's title was 'Stammering is cool' and in this song, the phrase of 'Stammering is cool! Stammering is cool! S, s, stammering ~!' was repeated in many times. There is not this kind of social awareness song about stammering in Japan, so this song was very impressive to me.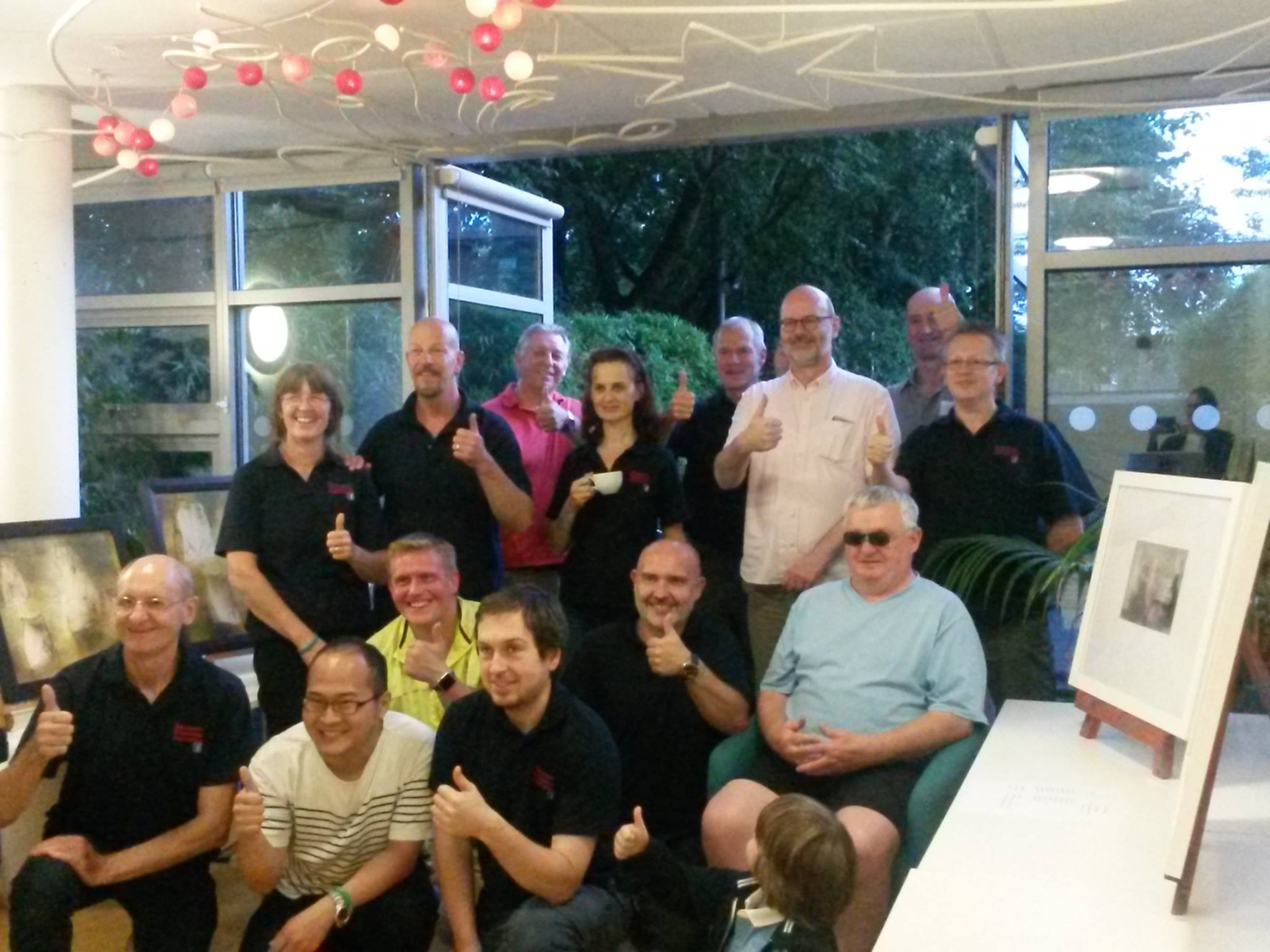 Fig.3: Party with members of DSA.

Visit to BSA (British Stammering Association)
During my stay at Clare Hall, I went to London, and visited the office of BSA(British Stammering Association) and exchanged opinions on stammering with staffs of BSA including Chief executive Norbert. What BSA is currently putting most emphasis on is activity to promote social awareness of stammering. In BSA, they describes stammering as a 'Hidden Disability (invisible Disability)" because the problems about stammering cannot to be understood by only the appearance of its linguistic symptoms. They made a poster saying "The best way to face a stammer is talking ", a list band written " Let's talk about stammering " so that to promote social awareness about stammering, Stamwalk was one of activities of it.
From the people of the BSA staff, I heard about the fact that they attempted many things to rise social awareness about stammering without deteriorating the problem of the social stigma about stammering.
For me, most impressive attempt was poster cards that BSA created like shown in Figure. 4 . On the poster card, next to the face photo of a person with a stammer, there were many sentences describing the person like, "His/Her name is ** ", " His/Her job is ** "" He/She has a nice character of ** ", and "He/She has a stammering". After these sentences, the sentence of "It's OK to stammer" was written.




Fig.4: Poster Card created by BSA. 'It's OK to stammer'.





Fig.5: Poster Card created by Japanese self-help group. Despairing person with stammering.

This poster card's tactics to promote social awareness was very smart and interesting to me compared with Japanese poster to promote social awareness of stammering created in recent years (Fig. 5).
When I showed presentations about the history of the stammering in Japan, BSA staffs gave me a strong interest in the contents of the "Stammering Declaration".
From the current communities of stammering in Japan, 'Stammering Declaretion' is often regarded as a little old philosophy, but, this way of thinking seems new and nice one for the British people with stammerings, and it was very impressive to me, and gave me a chance to rethink about history of stammering in Japan.




Fig.6: Photo with staffs of BSA.

Miscellaneous notes
In addition, I participated in a self-help group in London called 'Toast master's club' which is for the stammerers and specialized in the practice of the public speech. Also, I met and talked with some people introduced by Robert or got acquainted through SNS. They are very great opportunities for me to know the actual situation about stuttering in the UK.
Also, I visited many places in Cambridge University to study about stammering. I visited Wittgenstein Archive Center to discuss with the researchers about the influence that stammering's experiences had on the philosophy of Wittgenstein. I also visited Career Support Center of Cambridge to receive materials about reasonable consideration for students with stammering and actual conditions of job hunting support. At the CIDDRG (Cambridge Intellectual & Developmental Disabilities Research Group), I discussed with a researcher about research situation surrounding to developmental disability in the UK. Finally, I also visited MRC Laboratory of Molecular Biology and discussed with Dr. Kagiri Nagai.
This course was very meaningful for me to do study in my doctoral research in that it noticed to me the existence of the paradigm about stammering which I had been assuming so far. Besides the stammering's researches, I also visited many places and people and repeated discussions in many times, and they all were very great opportunities to me.
Finally, I would like to give heartfelt thanks to Prof. Fukushima, Prof. Kodama, members of the strategic planning office of RCAST, Professors who accepted my visit, Claire Hall's people, Bob, Norbert, Robert, and all people who I met in UK.